PREFACE
This event recap is a difficult one for me to write. While I want to share the event and portray it as the amazing, fun and exciting event that it is, I write with a heavy heart as our friend Greg Duff lays in a hospital with very serious injuries sustained from an accident during heat 2 of Sunday's races. Before getting started, I would like to acknowledge Greg and his family and close friends and let them know that the entire boating community is behind him and praying for a positive outcome.
Now, on with the show...
I love boats. I love boating. And I love boat racing (most of the time). Almost anyone reading this can relate. With the excitement and thrill of watching these liquid cowboys (and cowgirls) skipping across the water at unreasonable speeds, along with the bone rattling sounds of high-output racing engines, what's not to love? (Don't ask a sailor this question). And with most events taking place on back country lakes, rivers or offshore, its usually a scenic, adrenalin-induced mini vacation. But every year the big city of Long Beach gets a front row seat to this action packed spectacle when the Long Beach Sprint Nationals comes to town.
The weekend started off with the traditional show and shine party at Legend's Sports Bar on 2nd street in downtown Long Beach. It was great to meet up with friends and check out all race boats lining the street outside. Nick Rose Insurance hosted a nice dinner for all participants and he was gracious enough to include us photographers. The bar has large swing open doors so it was a great vibe to enjoy the warm summer night with some cold drinks and a great view of the boats outside.
Nick Rose and Liahna with the K-boat, "El Cid" in front of Legends Sports Bar on 2nd Street.
Produced by the Southern California Speedboat Club, they are bringing a fringe motorsport to the masses in a stadium specially built for boat racing. And this is a good thing because the more interest they can maintain in the general public, the more potential there is for the sport to live on. With the advent of digital devices, I often wonder if there'll be any young people left with the constitution it takes to grow up and drive a boat like that. But I hold out hope with these little guys below.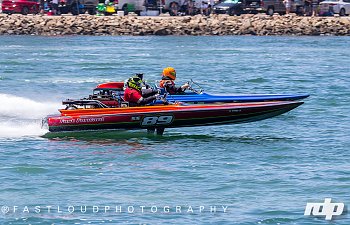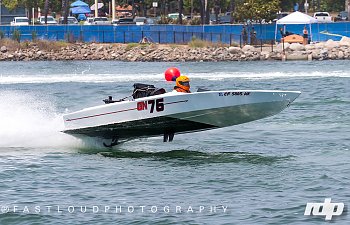 The crowds appeared large this year but I was told by the Race Director, Ross Wallach, that while attendance was typical on Saturday, it was down a bit on Sunday – with my guess being the excessive heat (Approx. 15k spectators vs. 25k last year). Its great to see how everyone sets up their camps along the shoreline for what is arguably the best view in boat racing. From simple beach umbrella's to EZ-Ups, to full-blown mess halls, it truly is one of the best tailgate parties you'll ever attend, and the fans get pretty creative with their setups.
As credentialed members of the press, we are lucky enough to get in early and setup our "headquarters". When I say "we" I'm referring to my two very good friends Daren (OCphotographics) and Scott (StryderPhoto). And when I say "headquarters", I mean my truck bed, an EZ-up, some chairs and an ice chest. Each of us were shooting for different publications this year, but we always manage to move around and mix it up, being cognizant to not all be taking the same shots. And of course, we ALWAYS manage to make it a party in the process.
But there's always that one guy that has to come along and make you feel like a rookie. And every year, that guy would be J.B. with Bragg Crane. Every year we find ourselves parked next to them and their small tent city. They sponsor Heath Hiebert't GN Boat #369 so they have a lot of people to entertain. They always set up the best camp on the shore and luckily for us they're generous with their provisions – graciously offering us a burger and a beverage, which we happily accepted.
In the world of sponsorship, logos matter. So when he saw the logo of a competitive crane company on the sleeve of Daren's t-shirt, he threw him a new T-shirt and suggested he wear that instead. They're a fun group of people and obviously big fans of racing.
I also want to give a shout out to Nick Rose Insurance for their generous hospitality. Even though we were shooting for other clients, they opened up their NRI hospitality tent for us to grab food and beverages and seek shelter from the hot sun. That's good business, in my opinion. If you've ever attended a boat race anywhere in California or Arizona, you know that Nick and Liahna are huge fans of racing, as indicated by their logo on the sides of many of the boats.
Speaking of racing… it was fantastic. There was a ton of action on the course, and several of the classes seemed to be fuller than previous years I can remember – most notably the GN and Crackerbox classes. Even the premier K-boat class had upped its game with 4 boats – 3 of them being capsules. However, there were far more crashes this year than normal, which brings me back to the beginning of this story.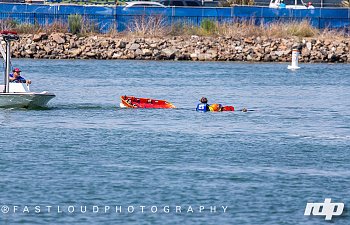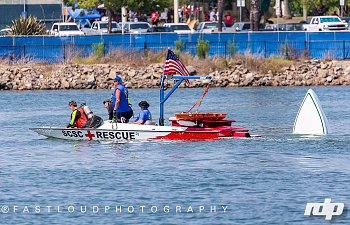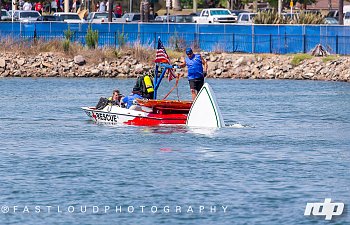 Yes. I love boat racing, like I said… most of the time. Because, while there was a lot of great racing, with lots of food, drinks and friends, there was also great sadness. In the second race of Sunday morning, our friend's Cory Furguson and Greg Duff were involved in what appeared to be a freak accident in the first turn. It happened at the opposite end of the course from where I was, so I didn't see anything. With all the various accounts of what people saw and heard, I won't speculate here just to have something to write. I've also heard many accounts of Greg's condition, which I also will not report because its not my place to do so. The only fact that matters is that Greg was seriously injured and he is fighting for his life, and we all need to be as supportive as we can. I Don't claim to be a close friend. But I know him well enough that this has deeply affected me and I hurt for him. His generous personality and big smile always makes me feel like I was welcome.
We are all aware that it's an inherently dangerous sport. But its times like these when I just don't want to participate anymore. It's too hard to watch the lives of people you care about be changed forever. I can't stop replaying the last conversation I had with him on Friday night at Legends' show & Shine party. He bought my first beer that night, and I tried all night to return the favor. He and his beautiful girlfriend, Sierra, wouldn't accept it because they had to race the next day. We joked that I would buy them one to celebrate their wins at the end of the weekend, and they agreed.
I'll be patient Greg. You have a lot of work ahead of you, but I believe in you and your racing family and I will wait as long as I need to buy you that beer. Just take your time and get well – and lets celebrate the biggest win of your life.
Erick Bryner
Fast Loud Photography
RDP